Posted on April 14, 2017 in Announcements
Click on the Picture Below: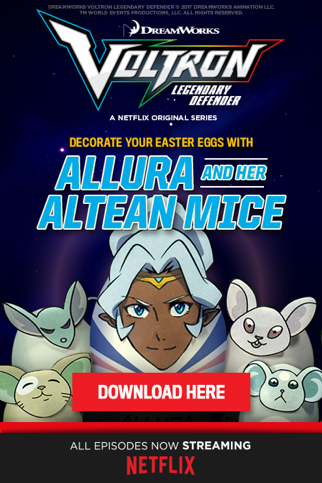 Posted on March 26, 2017 in Announcements Netflix
SERIES SYNOPSIS:
Before DreamWorks Voltron Legendary Defender debuted, there was the original 1984 series, Voltron: Defender of the Universe. Now, 12 of these classic episodes have been handpicked and introduced by the creative powers behind DreamWorks Voltron Legendary Defender, who share the iconic moments that entertained them as kids and inspired them as adults as they formed an all-new Voltron for audiences today. Voltron 84: where 2017 meets 1984.
Voltron returns with 12 classic episodes on Netflix Friday, March 24th with Voltron 84! In support of this awesome revival featuring intros and episodes hand picked by the creative minds behind  DreamWorks Voltron Legendary Defender, DreamWorks Animation Television and Netflix have released a brand new trailer!
Available now on Netflix!
Posted on June 10, 2016 in Announcements Dreamworks Netflix
VOLTRON LEGENDARY DEFENDER Season 1 – June 10th on Netflix
From days long ago, from uncharted regions of the universe comes the Netflix Original Series, VOLTRON LEGENDARY DEFENDER! DreamWorks Animation reimagines one of the most popular fan-favorite shows of all time in this all-new comedic action-packed show from executive producer Joaquim Dos Santos (The Legend of Korra, Avatar: The Last Airbender) and co-executive producer Lauren Montgomery (The Legend of Korra).
Five unsuspecting teenagers, transported from Earth into the middle of a sprawling intergalactic war, become pilots for five robotic lions in the battle to protect the universe from evil. Only through the true power of teamwork can they unite to form the mighty warrior known as VOLTRON LEGENDARY DEFENDER.
ALL HAIL KING JULIEN Season 3 – June 17th on Netflix
In Season 3, everyone's favorite lemur, King Julien, brings back the party with Mort, Maurice, and Clover in fun-filled adventures in Madagascar! King Julien sets sail on a wild ride when he is held captive by pirates, performs a booty-shaking dance recital and competes in the Jungle Games.  Mort is abducted by aliens, Clover discovers "fast food", Julien's needy parents show up and so much more in this Emmy Award winning original series! 
DREAMWORKS DRAGONS: RACE TO THE EDGE Season 3– June 24th on Netflix
Hiccup and Toothless are back along with your favorite Dragon Riders in an all-new action-packed Season 3 of DREAMWORKS DRAGONS: RACE TO THE EDGE. The high-stakes continue as the Riders advance in their hunt for Viggo, Ryker and their expanded Dragon Hunter army. Tune in as the Riders encounter new dragons, a seemingly reformed Dagur, an underground Dragon Fighting arena, and learn along the way that Viggo has a Dragon Eye and dragon fortress!